Since I now have 2 hands free
I can now get back to cooking. I bet I could even attempt a OAMC session with this really great cool baby wrap thing! Wow!
Anyhoo, this morning I realized I have a LOT of apples and they aren't getting any fresher. My sister and I go every two weeks to a local farmers market. Everything is super fresh, but because it's locally grown (not grown under conditions for a supermarket shelf -- a lot closer to organic -- and a lot cheaper) it goes stale more quickly. We get great bargains every trip. Last Saturday I bought 3 kgs of Granny Smith apples and 3 kgs of Lady William apples for $4. (That's over 13lbs of apples for $4. We can fill up a shopping cart of locally grown, fresh fruit and veg for under $40. LOOOOOVE it!)
Since this Saturday coming up is Fruit and Veg day again, it was high time to use up these apples. Slow Cooker applesauce is the way to go. The slow cooking helps retain the nutrients, and the kids will eat about 5 apples-worth each in a sitting.
Slow Cooker Applesauce
Peel and cut apples into chunks. Fill up the slow cooker with them -- they cook down.
Add 1/2 tsp cinnamon
Add 1/2 cup water
Add 1/2 cup sugar (since I am a sugar-holic trying to quit, I left it out this time. We'll see how it goes).
Stir it up, put on the lid and cook. If you like the applesauce chunky, stop cooking when you give it a good stir and there's some sauce and some chunks.
Another hour's cooking, and all the apples will disintegrate into sauce. No mill necessary.
Prep:
I'll post a picture of the finished product, when it's finished. Before it gets eaten. I'll have to be quick, LOL -- it's one of the kids' favorites.
Here's the finished product. I did add a spoonful of brown sugar, by the way. All those Granny Smith apples -- oooooh, sooo tart!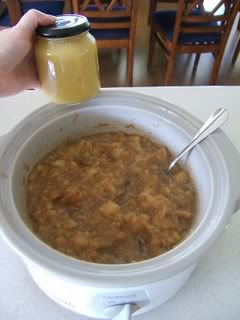 Now -- which would you prefer -- some of that tasty, cinnamony, fresh-apple applesauce, or some of that puny pale version from the jar?
NOTE: Don't waste the scraps! Next Post!