We took a 10.5-hour drive to Missouri last Friday for a MOMYS retreat! We planned that this would be our vacation this year, so we added a few days on to our trip to see the sights from Missouri back to Ohio.
We drove. A lot. Actually, that part of the trip is kind of a blur. We listened to the Narnia books on CD, sang some, saw the St Louis arch, visited a real nice rest stop and a really NASTY Dairy Queen just over the KY/Indiana border in a little river town, which I think was New Albany. Ew. Ew. Ew. I have never seen a restaurant restroom so disgusting in my life, and since we couldn't find anywhere else to eat in that particular little town, we had to eat there too, and it was just ew, ew, ew. Ew.
I'm racking my brain trying to think of anything interesting that happened on the way to Mt Vernon, MO, but I just can't think of anything. That is probably good, considering all the things that COULD have happened. We were surprised that Illinois was so flat and spindly-looking, but just as though a line was drawn between MO and Ill., it all of a sudden was hilly, and green as though it was just summer all the time in Missouri.
Well, we did see something interesting in Illinois. We had some discussion over what these things were:
pumps
in the fields.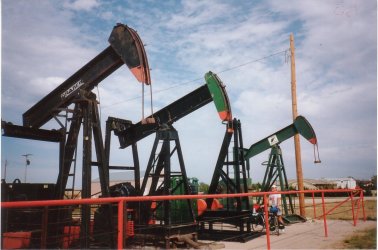 So hubby and I were discussing what these could possibly be -- they sure looked like oil pumps, but right there in the crops? Of Illinois? Who ever heard of such a thing.
I've only just found out now as I'm writing this, that all these jacks were indeed pumping oil, and that Illinois is a great source of underground oil. Well, I'll be.
So, after a few mis-steps on the way (Google maps are only so accurate), and a lonely drive down a long track in the pitch black, we happened upon a white van coming the other direction down the same lonely track. We figured it had to be somebody else on their way to the same place we were going, so we turned around and followed them. Success -- it was
Ty and Amy
, and they found the retreat center, and we just followed them right in.
There had been a great many questions from the kids in the back seats as to whether we would make it in time for the ice cream social at the retreat. The answer was, no. We kinda rushed in, a little uncomfortable and lost, looking for an internet-familiar face. We unloaded the food supplies into a few giant fridges and onto shelves straining with the goods necessary to feed 22 families -- which for mainstream America would mean something like 80 people, but for this crowd meant 170 or so. 44 parents and about 130 kids.
Hubby & kids unloaded all the luggage into our dorm room. I've had experience with camp-style dorm rooms before, and I was grateful for that experience. 6 bunk beds, and it's own heater/aircon.
Somebody's WALKING.
Saturday seemed to start very early. I was soooooo glad none of us were on breakfast duty. Hubby and Joman went for a walk together. They found the countryside around the retreat center to be lovely.

We had quiche and fresh fruit and yogurt and cereal for breakfast that morning, and then a time of praise & worship and a sermon following.

We were very impressed with the Kissenger family, whose children played some fine bluegrass gospel and really livened up the singing time. Everyone loved it.

Mr. Kissenger had all the children (or as many as would come) up on to the stage to sing "I am a C...I am a CH...I am a CHRISTIAN..." and another one or two songs.
The parents enjoyed this very much too. :-) Even with most of the children up on stage, there were still more in the audience than you would see in your average church congregation.
Saturday was a good long afternoon with nothing but fun activities planned. Kids crafts, and a nature hike for people who liked to use their legs, and a scrapbook/craft session for those who liked to use their tongues. I mean,
hands
.
I was on dinner crew, but all of a sudden things went sort of haywire. First, it was a beautiful warm sunny day -- but then it clouded over and the wind started blowing a gale, and it began to lightning and thunder, and pouring down rain, and all of a sudden the dining hall was full of people. Well, I was running around trying to get what seemed like 100 casseroles heated up in 4 ovens, and they just wouldn't get hot in time, and some of the other dinner preparers had family crises, and as soon as the brownies came out to be prepared for serving the kitchen was full to brimming with very short and hungry people, and somebody was throwing up, and dinner-time had to be switched with talent-show time, because the casseroles just WOULD NOT heat up, and there were 6 giant trays of biscuits that still had to go in the ovens, and it was hot, hot, hot back in the kitchen and crazy everywhere else.
Later we came to find out that
tornadoes
that had narrowly missed us, had killed some 7 people nearby. Looking at the
meteorological report
just now, I can see that Mt Vernon (where we were) was right in the track. Can you imagine the headlines.
At any rate, we all did eventually eat, and while the night passed stormy and windy (the dorm doors kept blowing open), we did find out how to put the heat on and slept very well the second night. We didn't know about the tornadoes until Monday.
Late Saturday night, the MOMYS had a special mommy session, which was lovingly and carefully set up with tablecloths and herbal teas and strawberry shortcakes and chocolates. Mrs Kissenger gave a talk on Prayer. How to keep a prayer journal, how to pray with your children, very practical and much-needed. Then we had a good-old-gabfest until I and a lovely friend couldn't keep our eyes open any more and we toddled off to our respective rooms.
Sunday was Mothers Day, and the men got up early, at 6am for another DADYS session. The Daddies were responsible for fixing a big pancake breakfast, which they did very successfully. Another praise/worship time followed breakfast, and Mr Kissenger delivered a strong, earnest and honest message to the children, encouraging them in plain words to be obedient, forgiving of their parents, and responsible for their own actions. Hubby and I liked the message very much. ;-)
The Kissenger family provided music again, and then we all went outside for a romp and a big big family photo.
Unfortunately, some people were beginning to get sicker at that point and had left the camp, but for the most, the day was lovely and bright and enjoyable. We had sandwiches and leftovers and all sorts of stuff for lunch, and talked and hung on to each other a little bit, and cleaned up camp, and then it was time to go.
I know I must have missed a hundred things, but that's the basics of what happened at the MOMYS retreat in Mt Vernon MO, Mothers Day Weekend, 2008.